Why not treat someone special to happy and healthy feet today
Gift Vouchers now available!


Each Voucher is for a full Chiropody Treatment and can be redeemed up to six months from the date of purchase.
Call me to order your Voucher today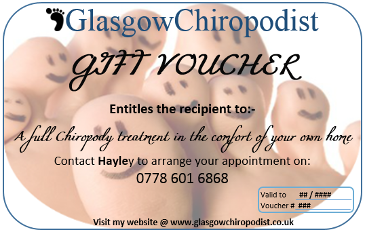 Payment can be made via; CASH, CARD OR PAYPAL

Hayley Sweeney
BSc Hons HCPC Reg. Mobile Podiatry/Chiropody. Your Glasgow Chiropodist. All Rights Reserved.