Hayley Sweeney BSc Hons HCPC Reg
Mobile Podiatry/Chiropody

Flexible Home Visits, Including Evenings
Clarkston, East Renfrewshire,
South Lanarkshire
& Glasgow areas covered
Full Foot Assessment and Individual Treatment
Plan

at Initial Appointment
Treatments Include;
Routine Nail Care
Corn and Hard skin removal
Treatment of Ingrown Toe Nails

Verucca Treatment and Advice
Footwear and Footcare Advice
Insole Prescription
Diabetic Assessment and Treatments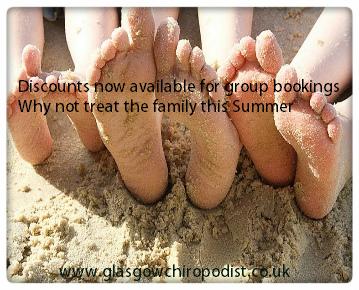 Hayley Sweeney
BSc Hons HCPC Reg. Mobile Podiatry/Chiropody. Your Glasgow Chiropodist. All Rights Reserved.